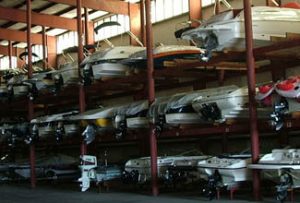 Dry storage
Duncan Bridge Marina's dry storage facility is one of the biggest on Smith Lake with the capability of holding over 400 boats. As with all dry storage facilities, ours keeps your boat protected from wind, rain, and sun fade. Along with protecting your boat from the elements, dry storage also helps protect your boat from thieves and vandalism. The trustworthy staff at Duncan Bridge Marina, along with a security and camera system, help keep your boat safe. If your boat is kept at the dry storage facility, you only need to call 15 minutes before you arrive and your boat will be in the water waiting on your arrival. If you wish, we will also fill your boat with gas before putting it in the water so you can have a fun filled day without worrying about filling up.
Wet Storage
If the dry storage is not your style or you prefer to come and go in your boat without calling ahead or just use your boat often, maybe the wet storage at Duncan Bridge Marina would fit your needs better. Our wet storage facility are for bigger boats or people that prefer to come and go on their own time. Fisherman like our wet storage because they have the ability to leave before daylight and can come back and dock even after the marina staff have left for the day. As with any wet storage, your boat will not be as safe from the elements or vandalism as it would be in our dry storage facility.
If you have any questions about our wet or dry storage facilities, please feel free to call our helpful staff so they can assist you.
"C" Slip Fee (Upper Rack) are $25.00 more due to extra overhead space that are required for some boats.
(Short Term seasonal summer customers only:) From May 1 thru August 31 there will be a $50.00 charge in addition to regular monthly storage rates.